We own our tasks and take personal responsibility for our company's success. We can rely on each other; we are committed and we are empowered to do our work. We act mindfully with resources.​

WE KNOW OUR PEOPLE, CUSTOMERS, AND THE MARKET
We value our customers and colleagues and anticipate their needs. We communicate regularly, transparently, and openly.
WE KEEP LEARNING, SO WE CAN KEEP DELIVERING EXCELLENT RESULTS
We are experts in our business, striving to continuously expand and improve on what we know. Our many years of experience drive us forward. ​We commit ourselves to lifelong learning and to delivering excellence.​
MUTUAL APPRECIATION MOTIVATES US TO KEEP GROWING
We appreciate and praise each other for our excellent work. We celebrate professional development and strong performances. We believe open feedback supports steady growth. We encourage and support each other toward success. ​
WE STICK TOGETHER AND HAVE FUN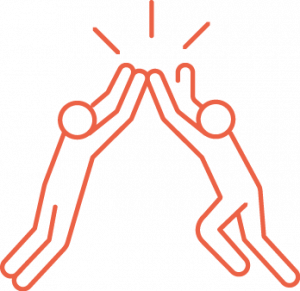 We are one team and we stick together. Our team is built on the diversity and competence of its individual members. By engaging and having fun together, ​we create a motivating workplace where we trust and support each other. ​